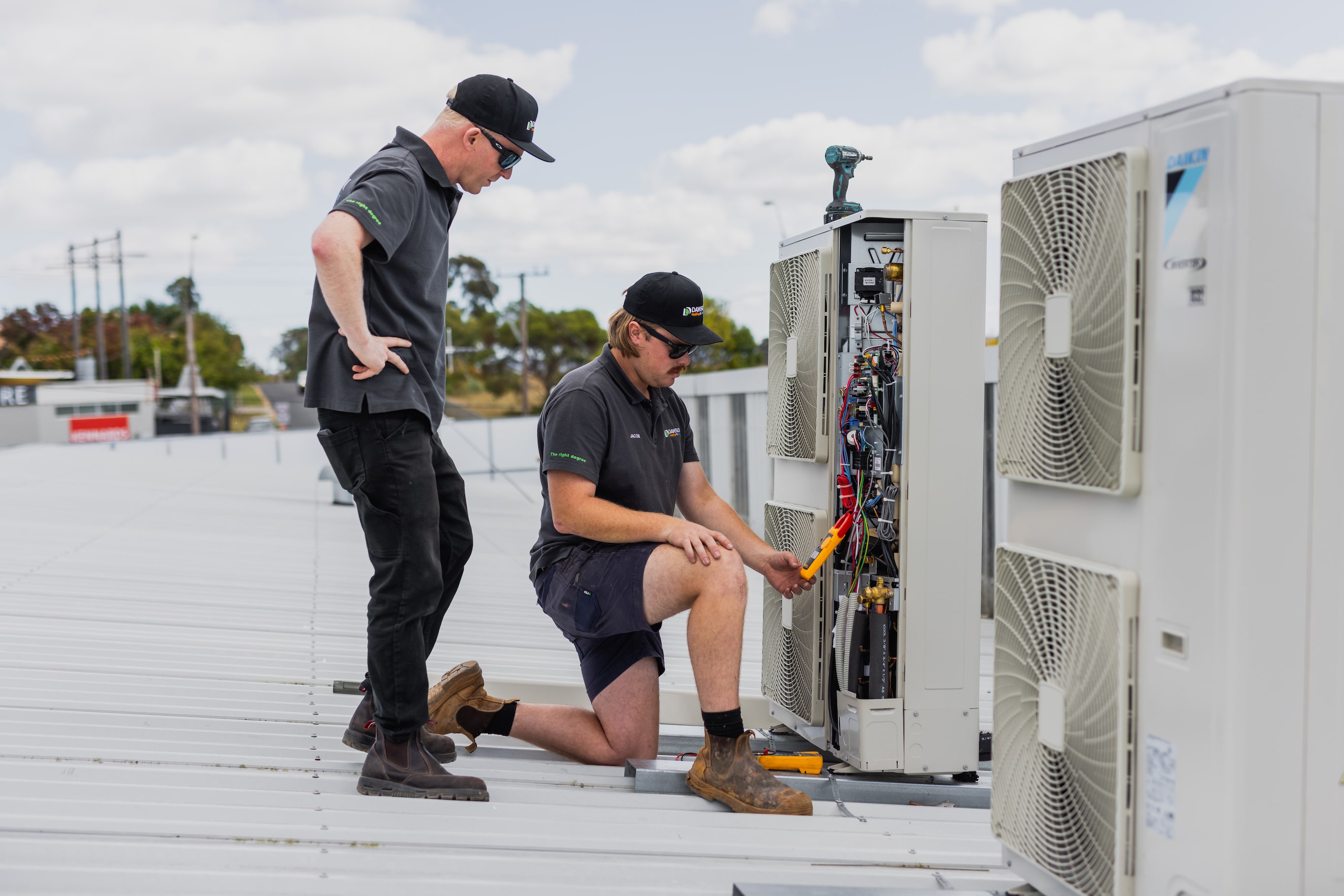 We are growing and we would love you to join us.
We are regularly looking for talented individuals to come and join the Dawson family, from apprentices and technicians to labourers and admin staff.
Apply now
Our success is built on our people
With over 15 years' experience in the industry, our longevity and continued growth is due to the dedication of our people. It's our job to reward that, and when you join Dawson, you get all the advantages that come with a first-class team culture, combined with excellent training, support, and career opportunities. We celebrate ambition and we're committed to developing our people. If you have the commitment, we'll take you places.
Our technicians undertake ongoing training to ensure they are fully proficient in all aspects of their job and can provide quality customer service to our clients.
If working in the HVAC&R industry is more than just a job to you, join us and build your career with Dawson.
Join the team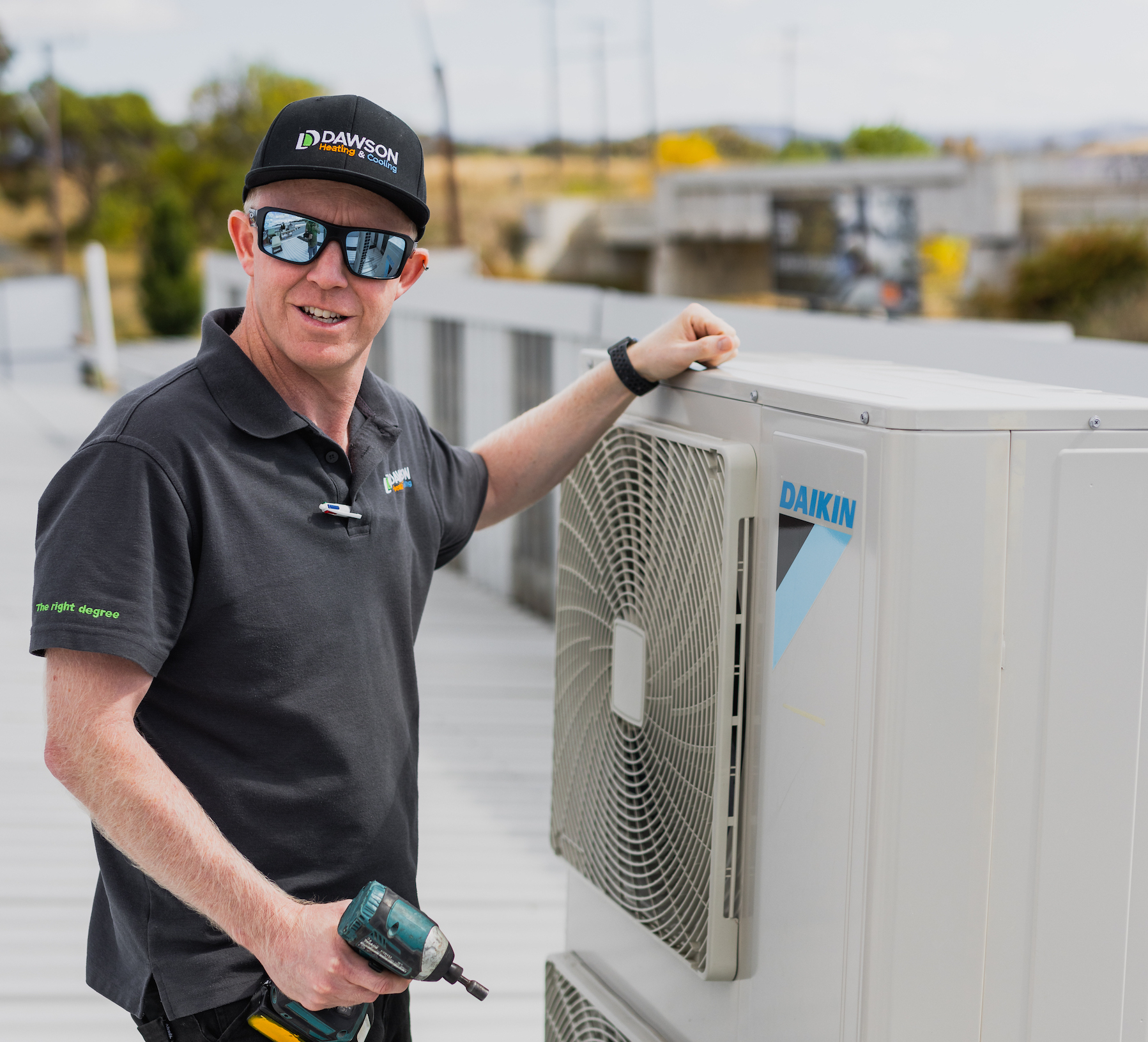 Build your career with Dawson
We are a family business at heart, and we remain true to our core values, building long-term relationships, taking care of each other and the community and working towards a common goal. We are passionate about giving back to the region in which we work, and always doing the right thing when it comes to our clients and the suppliers that we work with.
We have built our reputation through exceptional customer service which is what motivates each and every member of our team.
What we offer
Above award rates
Penalty rates for overtime
Branded uniform for summer and winter climates
Training – both inhouse and external as appropriate
A stable, long-term career with promotion prospects
A friendly team with a great company culture
Family or colleagues? We are the integration of both.
Our people-centred approach to business, commitment to innovative processes and our fun, friendly team culture is what sets us apart – we love what we do!
"Our culture is unique. Our achievement is the product of our integrity, our long-lasting relationships, and a whole lot of heart!" Jonathan Dawson, Director.
What matters to us?
Our values are what drive and motivate us each and every day. They have helped to grow the business and will continue to guide us in our relationships both within our team and with our customers.
Family matters.
We are a locally owned family business, supporting each other to continually drive innovation and improvement in all our team members.
Customers come first.
We recognise that trust, reliability, and confidence are vital in the service that we provide. We are only ever satisfied a job has been delivered to The Right Degree when we get sign off from our customer, and know they would be happy to recommend our services.
Obsessed with quality.
Our focus on quality is evidenced in the brands that we work with and the company we keep. We never cut corners when it comes to quality – in our people, our products, the service we deliver, and we hold ourselves accountable to the highest of standards.
Part of the community.
Through the loyalty of our customers and the hard work of our team, we have been able to grow together as a business, and for us it is important to give back to the place we are part of. We are proud to partner with charity and sports associations close to our heart, contributing to the wider community.
Driving the future.
There's always a better way of doing things and in our industry its vital that we are ahead of the curve in understanding the heating and cooling technologies, that support greater cost efficiencies and the environment. We actively invest time in researching and understanding the latest developments, to provide the best advice, and the widest range of products to our customers, in both residential and commercial applications.
The right career awaits.
Apprenticeships
The HVAC&R industry can provide you with a rich and rewarding career. We believe in investing in quality, supporting apprentices while they complete their accreditations. It's our priority to spend time with our apprentices to ensure they are getting the most out of their studies, both on the job and in their technical skills development.
Do you have a positive and enthusiastic attitude towards work and are you eager to broaden your learning across all aspects of the industry? If you are someone who enjoys problem solving, a fast-paced work environment and constantly evolving systems then you are heading in the right direction.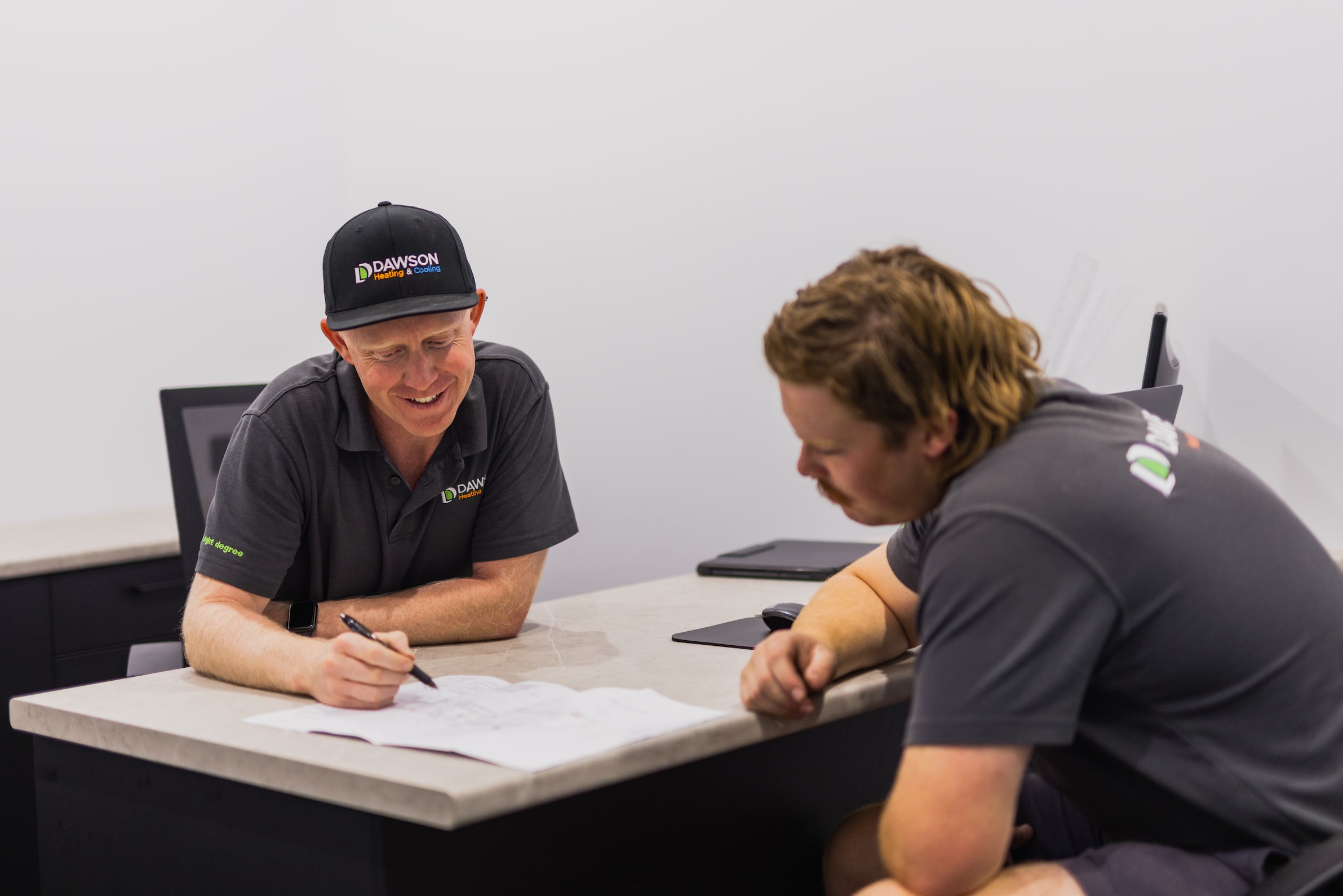 Does this sound like you?
Problem Solver
Learn best by being hands on
Find solutions by mixing creativity with practicality
Act with confidence, honesty, and logic
Applications now open!
There's always a better way of doing things and in our industry its vital that we are ahead of the curve in understanding the heating and cooling technologies, that support greater cost efficiencies and the environment.
Apply now
Career pathways at Dawson.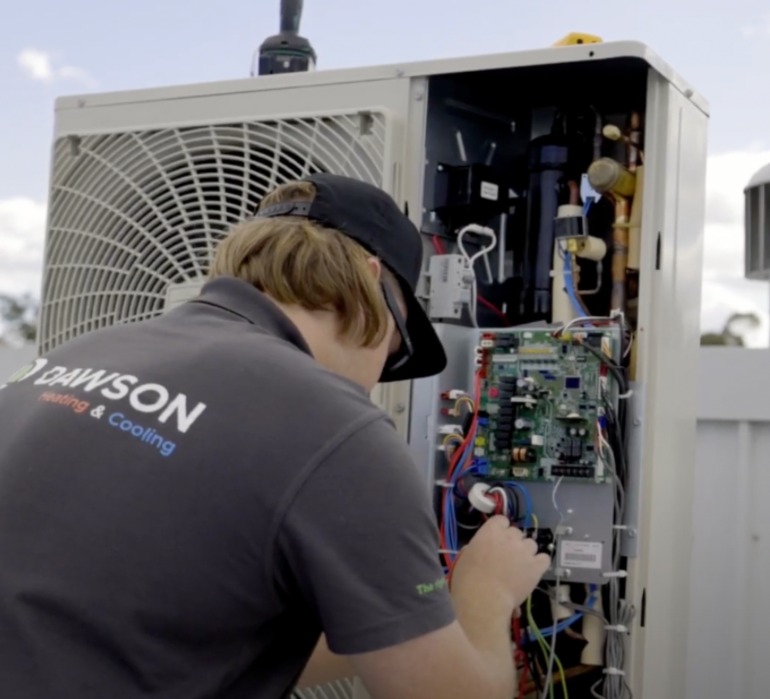 Why Jacob Started His Career In Heating & Cooling At Dawson
When Jacob left school in 2017, he was convinced Dawson was a great place to work. Now over four years down the track, he sat down to discuss the benefits of being part of our family and day-to-day life in the heating and cooling trade.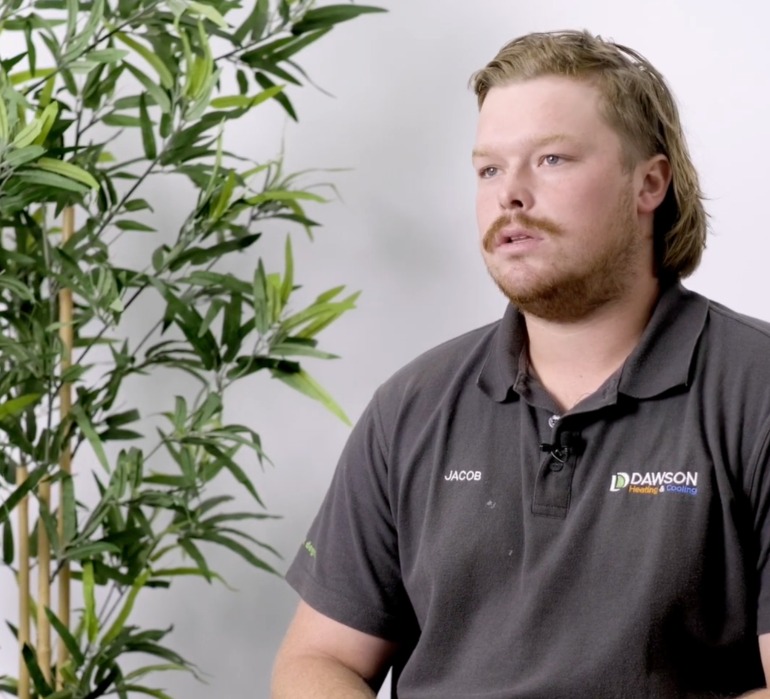 Dawson Team Member Jacob Discusses The Day-To-Day Diversity of Being A 'Fridgie'
In the heating and cooling trade, every day is different. Jacob joined the Dawson family four years ago and thrives from the diversity that life as a 'fridgie' can bring. From helping customers achieving optimum comfort in their homes to training apprentices, his career provides him variety with a healthy culture
We offer our employees something more, with opportunities to grow in every role.
Recognition
We believe high performing employees drive business growth. We support our people through ongoing engagement, by providing learning and development opportunities, for future career progression and by recognising and rewarding exceptional achievements.
Work life balance
We offer a competitive wage which you can enjoy with job stability and a wide variety of project work every month. Whether you are working in the office or on a worksite, no two days are the same and there are always exciting opportunities on offer. Our priority is the safety and wellbeing of our team. With a great work-life balance, Dawson is the ultimate workplace for anyone looking to work in Canberra's leading HVAC&R company.
Training opportunities
The team regularly undertake training in air conditioning installation best practice, preventative maintenance and breakdown repair and we equip them with quality tools to ensure they complete every job to the highest possible standard. You'll be trained in industry and OH&S procedures to keep safety at the forefront of every project.
Learn from the best
We are proud to have a team of highly qualified air conditioning installers servicing both the domestic and commercial sectors. We are market leaders, servicing the industry for over 15 years thanks to our qualified team and technicians providing decades of experience. You'll be learning from professionals, with both technical and practical experience.
Top class apprenticeships
We pride ourselves on producing quality tradespeople by supporting our apprentices while they complete the nationally accredited Certificate III in Air Conditioning and Refrigeration at CIT Canberra. Our leadership team makes it a priority to spend quality time with our apprentices to ensure they are getting the most out of their studies and that they have a full understanding of what they are learning.
Join the Dawson team today.
With a range of different jobs available, we offer opportunities for people at all different stages of their career, from apprentices to fully trained technicians, we're always on the lookout for the best. Send us your details and a member of the team will be in touch shortly.